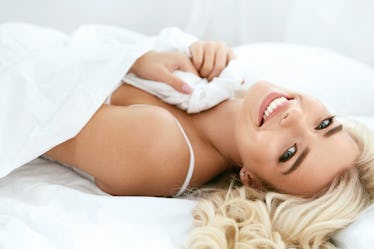 These Are The Best Vibrators For Pleasuring Your G-Spot
While many people with vaginas and vulvas claim that the clitoris is the center point of all pleasure, there's another spot that offers just as much stimulation. The G-spot is located inside and to the front of your vagina. It feels spongy and soft when you insert your fingers inside your vagina, and if you tap your mons pubis right above where the hair begins, you can feel it being stimulated ever so slightly. While you can use your fingers to massage your G-spot, using one of the best G-spot vibrators is an even better way to achieve stimulation in this area.
Your G-spot is actually thought to be a cousin of your clitoris, in that they live close to one another in your body and react to similar stimuli. In fact, a lot of people claim that the orgasms that occur when both their clitoris and their G-spot are being stimulated are the best kinds of orgasms. (These are called blended orgasms, by the way.) So while you're using one of the below G-spot vibrators, don't forget to give your clit a little bit of love, too.
Ahead, you'll find the best G-spot vibrators you can get your hands on — and they're all conveniently available on Amazon.