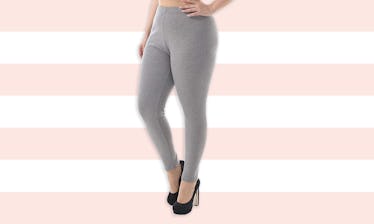 These Fleece-Lined Leggings Are The Secret To Staying Cozy When It's Cold AF
With most fleece-lined leggings, warmth is a given. But to distinguish the best fleece-lined leggings from a pair that's just so-so, you'll need to take a closer look at both the material and the construction.
The material of your leggings should be soft and stretchy so you can move freely without feeling restricted. Synthetic fabrics like spandex, polyester, and elastane will go a long way toward ensuring comfort and flexibility. And if you're planning to work up a sweat, you'll want your leggings to include at least a little polyester or nylon, as these fabrics wick moisture and dry quickly.
When it comes to construction, seemingly small details can make a big difference in comfort. Flat-lock seams help make leggings less itchy and reduce the chances of rubbing or chafing. Meanwhile, gussets at the crotch prevent the bulk of having four seams come together in one spot. And as far as the waist goes, you'll want to make sure your tights have an elastic band or another securing feature so you don't spend the whole day yanking them up.
Take a look below at some of the best fleece-lined leggings to keep you warm and toasty wherever you go.