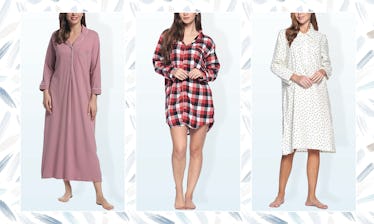 These Comfy Flannel Nightgowns Are The Ticket To Your Best (Quarantine) Life
Bustle /Amazon
With so much more time at home these days, a certain breed of grandma-chic aesthetic has slowly but surely evolved into a movement. These days, comfort reigns supreme — and not just comfortable, but comforting, too. In a soft, homespun fabric with old-school nostalgia, the best flannel nightgowns will envelop you like a security blanket and encourage you to put your feet up with a cup of tea.
While classic flannel pajamas might be the first thing that comes to mind, in a society witnessing a resurgence of the house dress, the flannel nightgown is a worthy alternative you can throw on at a moment's notice. It's the ultimate in ease. You could just as easily spend all Sunday in your nightie and sheepskin slippers, or add a belt and call it a dress if someone drops by and they'll be none the wiser. But really, you're wearing it for your comfort, not someone else's, and part of embracing the grandma movement means not giving a damn what anyone thinks anymore.
Whether that's a sweeping flannel nightgown or a short sleep shirt is up to you. A lot of it will be dictated by the weather where you are, as well as your personal cold tolerance. If you hate dealing with a bunch of fabric a long nightgown with a split hem will offset that. A short flannel nightie is a cute option you can wear by itself or turn into a sleep shirt paired with some leggings or cozy cashmere socks.
From the floor-length plaid nightgowns that feel like a robe to the cute cropped leopard-print nightie — with pockets — these are the best flannel nightgowns for living your best life, on your own terms.
We only recommend products we love and that we think you will, too. We may receive a portion of sales from products purchased from this article, which was written by our Commerce team.