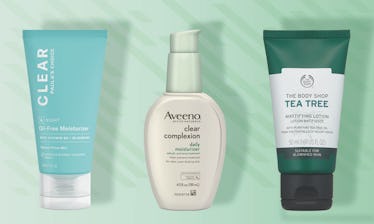 Your Official Guide To The Best Moisturizers For Acne-Prone Skin
Amazon/Elite Daily
Finding a moisturizer when you have acne-prone skin is no small feat. Though moisturizing is the foundation of any skin-care routine, if you tend to break out on the regular or have oily skin prone to congested pores, you can't use just any old formula you come across. To determine the best face moisturizers for acne-prone skin, you'll actually need to do a fair amount of homework.
You'll first want to look for a moisturizer that says it's oil-free, since obviously, adding heavy oils to skin that has a tendency to break out isn't going to do you much good. You might also prefer to use a face moisturizer that contains an acne-fighting ingredient like salicylic acid. Used on its own or in conjunction with another acne treatment, a moisturizer with salicylic acid can help keep skin clear — just be sure to check with your derm first to make sure it plays nicely with any treatments you might already be prescribed.
If you've already found an acne treatment that works for you, and you're just looking for some extra hydration to combat any drying effects without causing more breakouts, a basic hydrating moisturizer will do the trick. Look for a product that says it's noncomedogenic, which means it doesn't include any heavy ingredients that will likely clog your pores.
In the daytime, you'll also want to make sure you're wearing SPF. Not only is this important in preventing signs of sun damage and the risk of skin cancer, but many acne treatments can make your skin more sensitive to the sun, making it an imperative step in avoiding getting sunburnt.
To help find your moisturizer match, check out five of the best face moisturizers for acne-prone skin, below.