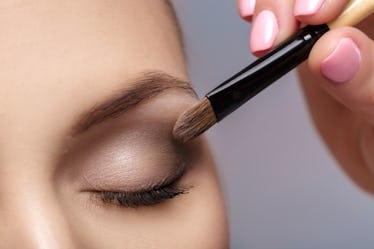 These Are The Best Eye Makeup Brushes For Every Skill Level
by Kristin Collins Jackson
Despite having decades of experience applying my own eye makeup, there are still moments where I question my own skills. The truth is, our makeup skills are only as strong as the tools we use — and getting one of the best eye makeup brush sets will help make your application flawless. Using one brush for everything can certainly make your makeup bag less crowded, but it can make your coverage underwhelming as well. Makeup brushes are uniquely designed to target specific areas of the face, so it's likely that the brush you use to put on blush isn't going to do your eyeshadow game justice.
While you might not need to be armed with fifty different brushes, you may find that owning the essentials can really rev up your eye makeup application. The good news is that you don't have to spend a fortune by purchasing each brush on its own. Most eye makeup brush sets will include the basics: angled brushes, crease brushes, pencil brushes, and liner brushes. Of course, the basics vary from person to person, but a great set of eye brushes should definitely cover your own basic needs. Having variety will give you total control of the outcome you wish to achieve with your look, and it will also reduce spreading dirt, makeup, and oil all around your face.
If you're ready to amp up your eye makeup routine, start by investing in one of these great brush sets.