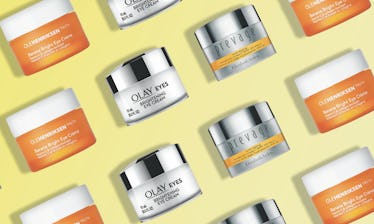 5 Soothing & Nourishing Eye Creams To Refresh Your Tired-Looking Eyes
Amazon/Elite Daily
Dark circles under the eyes can be caused by a ton of different reasons, from stress to allergies to a lack of sleep. And while ensuring you're getting a solid eight hours of rest is one of many smart preventive measures to take, using one of the best eye creams for dark circles will work in a pinch.
Different eye creams work in different ways to treat or conceal dark circles, so it's important to be mindful of what you're hoping to achieve. Some eye creams have light-reflecting technologies that help immediately brighten the skin under your eyes and blur the appearance of dark circles, while others, like ones that contain retinol, help stimulate skin cell turnover, which requires some time to make a noticeable difference.
Another thing to note is that not all dark circles are caused by lifestyle choices. Plenty are the result of underlying skin pigmentation, a nutritional deficiency (or anemia), or just good 'ol genetics. So if you're trying to treat them, but are finding your eye cream regimen ineffective, it might be because of an underlying condition. A dermatologist can help you identify the cause and come up with a treatment plan.
Another tip? Make sure you're drinking plenty of water. Dehydration is one of the most common causes of dark circles, and luckily, it's a pretty easy fix.
But it's a good idea to give eye creams a shot, first. Ahead, find five of the best eye creams for dark circles you can buy.