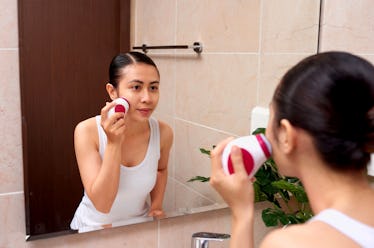 Get A Deeper Clean Out Of Your Face-Washing Routine With These 5 Handy Exfoliating Brushes
If you're looking to get an even deeper clean out of washing your face, you might want to consider investing in an exfoliating brush. These pulsating devices work the dirt and oil out of your pores much more effectively than your hands ever could. But we've come a long way since the original Clarisonic was released over a decade ago. Now, the best exfoliating brushes for your face come in a variety of shapes, sizes, speeds, and textures, so you can find the perfect one for your skin's specific needs.
There are a few key differences between exfoliating brushes that mostly have to do with personal preferences. Some brushes have bristles that resemble a regular brush, which tend to be a little more rough on your face. Some skin types will actually benefit from these types of heavy-duty brushes, though — particularly those that are extra oily. Silicone facial brushes, on the other hand, don't have any bristles at all. Instead, they rely on gentle little tightly-packed nubs to exfoliate, and are therefore a better option if you've got sensitive skin. Silicone facial brushes are also considered more hygienic, since the material is much more resistant to bacteria buildup. But a lot of people still prefer the squeaky-clean feel that bristled brushes leave in their wake.
Below, you'll find five of the best facial cleansing brushes on the market. Just remember to replace the brush head sporadically to avoid bacterial or fungal growth. If you don't, all that buildup can actually cause breakouts, so be sure to exfoliate consciously by keeping your brush clean.