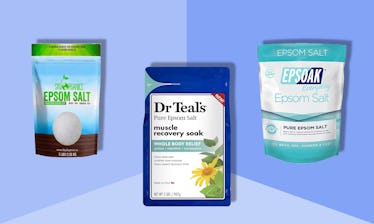 Soak Your Way To DIY Spa Day With The 5 Best Epsom Salts
Whether you want to relax, recover from a long week, or revitalize your skin, the last thing you need to worry about is what kind of salt to use for your bath. To find the best epsom salts for your at-home spa needs, you'll want to think about what the salt will be used for, how often you'll be using it, and whether scented or unscented baths work best for you.
Different salts offer different benefits, so think about what you're looking to get out of your bath. Epsom salts with essential oils can help relieve muscle pain or impact your mood via aromatherapy, while detoxing blends can help get rid of toxins and clear pores. You'll also want to consider how often you'll be using your bath salts; if being used daily, it's helpful to find an option that won't run out so quickly, and you'll want to make sure that the salt is gentle and non-drying enough for everyday use.
Although some salts are odorless, others are naturally scented and can provide additional aromatherapy during your bath. However, essential oils and fragrances have the potential to fill your entire home with scent, so it's important to note that if you have sensitivities.
Since excessive epsom salt research may deter your desire to relax, I've scoured Amazon to help you find the best one for your needs. My picks vary — from scented and unscented to detoxing and muscle recovery — but all are made to soothe your body. Read on to find the best epsom salts to help you achieve complete and total relaxation.