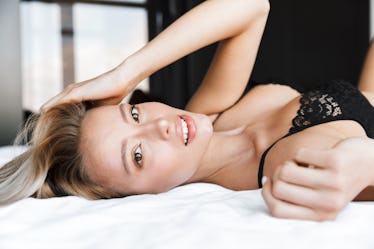 These G-Spot-Stimulating Egg Vibrators Are About To Become Your New Favorite Sex Toy
I know what you're probably thinking — what's the difference between an egg vibrator and a bullet vibrator? The truth is, there isn't much if you know how to use both. But for vibrator novices, they can provide different sensations. While bullets are specially designed to hit your clit, eggs are a better option for those looking to massage their G-spot. Its shape is better suited for internal stimulation because it's wide and curved — so you're going to want to invest in one of the best egg vibrators if G-spot stimulation is what you're after.
If you're planning to use this vibrator the way it's meant to be used —slipping it inside of your vagina and going to town — then you're going to need a lot of lube. Most vibrating eggs that you'll buy, though, will be made of silicone, so make sure to steer clear of silicone-based lubes and use a water- or oil-based formula instead.
Egg vibrators aren't only restricted to massaging your G-spot, though — you can use them to stimulate your clit and nipples. These toys are also fun to use with your partner, especially if they have a prostate. They're the perfect size and shape to place against your partner's perineum for gentle stimulation.
Since many of the best egg vibrators are available on Amazon Prime, they can become a part of your toy collection in a matter of days. Check out five of the most popular picks, below.