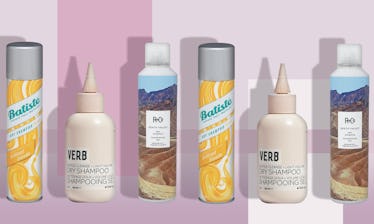 If You Have Blonde Hair, These Are The Dry Shampoos To Use
Elite Daily/Amazon
Dry shampoo may not have been part of your hair routine for as long as actual shampoo has been, but in its swift rise to the top, it has certainly earned a place on the essentials list. Not only can it help a days-old blowout last longer, but a good dry shampoo also absorbs grease, adds volume, and even leaves your hair smelling fresher. There's just one catch. They don't always blend in with your hair color. That's where this guide to the best dry shampoo for blonde hair comes in.
While finding a dry shampoo for blonde hair is definitely easier than it is for darker hair tones, it still has its own set of complications. You don't want something with a full-on white cast that's going to dull golden blonde hair and take it into gray territory, but you also don't want to use a blonde-tinted dry shampoo that will give platinum colors a yellow finish. That's why, as a general rule of thumb, platinum and icy blonde shades will want to look for a dry shampoo with a violet tint, while warmer blonde tones (think honey and caramel) will want to go for golden or yellow tints. When in doubt, you can always opt for a totally neutral dry shampoo that applies clear.
Whether you go for a tinted option or one that's completely colorless, applying dry shampoo remains largely the same. You'll want to shake the can before you use it and hold it 6 to 10 inches away from your head as you spray it at the roots. Let it sit for at least two minutes before brushing it out or hitting hair with a blow-dryer. But if your hair is especially oily, you may want to apply your dry shampoo at night (and very generously), allowing it to work its oil-absorbing magic while you sleep.
Now, scroll on to discover five of the best dry shampoos for blonde hair.