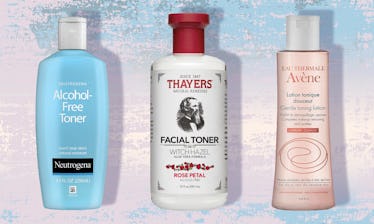 Got Combination Skin? These (Affordable!) Balancing Toners Might Be Just What You Need
Elite Daily/Amazon
Toner is one of the more underrated skin-care products out there: The right one can have a transformative effect on your skin. But finding the perfect toner for your skin type can be a bit of a challenge, especially for those with combination skin, who need something that strikes the balance between being hydrating and oil-absorbing. To help streamline your search, however, you'll find five of the the best drugstore toners for combination skin outlined ahead, whether your T-zone tends to run extra oily, your skin is sensitive, or you're dealing with frequent breakouts.
In most cases, you should avoid toner that has alcohol in it. This is a good general rule of thumb for all skin types, but for combination skin, alcohol can make dry patches significantly worse. To help treat those areas that run on the dry side like your cheeks, look for a formula that contains skin-softening and moisturizing ingredients like hyaluronic acid and glycerin. Aloe vera extract and rosewater can also be helpful, as they both have anti-inflammatory properties that are great for soothing irritation.
To treat those areas on your skin that tend to get shiny like your T-zone, you'll want to make sure your toner also includes something to balance oil production, like witch hazel. Witch hazel is particularly popular because it helps remove excess oil and constrict oversize pores without being too harsh. If you need something more serious to treat oily areas that are acne-prone, however, look for salicylic acid to deep clean your pores of any oil and dead skin that might be causing breakouts.
To keep your skin (and your wallet!) happy, here are five of the best affordable toners for combination skin that won't break the bank.