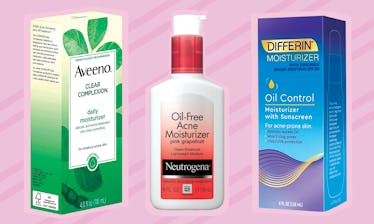 5 Cheap But Effective Drugstore Moisturizers For Acne-Prone Skin
Amazon/Bustle
If you have acne-prone skin, you're well aware that all moisturizers aren't created equal — and spending the big bucks on prestige brands with fancy formulas that your friends with less finicky skin swear by can actually cause even more breakouts. But finding a moisturizer specifically formulated for your skin doesn't have to be costly. The best drugstore moisturizers for acne-prone skin will keep your skin smooth and clear with a combination of hydrating and acne-fighting ingredients.
For acne-prone skin, it often seems to make the most sense to reach for formulas that contain active ingredients like salicylic acid or benzoyl peroxide. While these can certainly help prevent future breakouts by regulating oil production and clearing out pores, they can't do it alone. Without some hydration, they can dry your skin out, leading it to produce more oil that can cause even more acne.
Instead, choose a moisturizer with a gentle active ingredient, like salicylic acid, that's paired with a lightweight hydrator like hyaluronic acid or glycerin. You can also look for silica, which will absorb excess oil and help keep congested pores in check. Words on the packaging like "noncomedogenic" and "oil-free" are also good indicators that the product doesn't include heavy ingredients that can clog your pores.
Ahead, you'll find four of the best drugstore moisturizers for acne-prone skin — whether you're simply looking to keep skin hydrated while treating and preventing breakouts or you're in need of a full-body option that will smooth away bumps and blemishes for good.