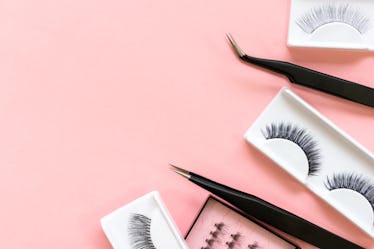 The Best False Eyelashes For Beginners & Pros — & They're All Under $20
Shutterstock
Achieving long, thick lashes doesn't have to require investing in pricey mink falsies or booking an appointment with a lash extension specialist. With the help of the best drugstore eyelashes, you can get the fluttery lashes of your dreams for just a few dollars. Choosing a pair of false eyelashes is relatively straightforward; it mostly just comes down to personal preference. If you love a dramatic look, go with a pair of long, densely packed lashes. For something more subtle, choose a soft, natural-looking set or individual lashes, which are easier to customize.
Putting the false lashes on is where it gets tricky, and the technique definitely requires a fair amount of practice to get right (especially if you're going the individual route). Before you even get your glue out, start by removing your lashes from the tray and measuring them up along your lash line to plot where exactly they'll sit. To get the right fit with a band of lashes, you might have to trim the inside corners if it's too long for your eyes. Once that's set, use a pair of tweezers (or a lash applicator if it's included with your falsies) to hold the lashes and apply a thin layer of glue across the band. Let that sit for about 30 seconds until the glue gets tacky, then line the band along your natural lash line and firmly press it into place as the adhesive dries.
Don't forget that your falsies are only as good as your glue, and you can find the best false lash glue options, here, plus tips for how to properly remove them so you can get several uses out of each pair of false lashes. Though some of the picks on this list come with their own small bottles of glue, if you plan on using falsies frequently, you might want to consider investing in a bigger tube to keep on hand.
The next time you want to take your eye makeup to the next level, choose from the best drugstore eyelashes on this list.