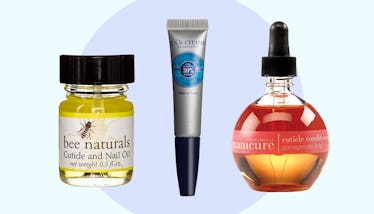 These Nourishing Cuticle Oils Revive Dry, Damaged Nails
by Kristin Collins Jackson
Bustle / Amazon
Between washing your hands, doing laundry, cleaning, and cold weather, our nail beds go through a lot every day. It's totally normal for your cuticles to become dry if they aren't receiving enough moisture — but your nails don't have to struggle when you have one of the best cuticle oils at your fingertips.
If your cuticles always seem to be dry, it can result in damage in the form of brittle, dry nails, cracked skin, or hangnails. Luckily, minor damage done to our hard-working hands can be reversed with a treatment oil that helps repair and prevents damage to the cuticle, the nail, and the surrounding skin.
Usually, these products are made with fast-absorbing vegetable oils that replenish moisture in the cuticle and nail bed. They often include a combination of vitamins, oils, and natural or synthetic ingredients to help the heavy oils penetrate better. Even though a heavy oil may take a long time to absorb on your face, cuticle oils are designed for an extremely dry area that's ready to soak them right up. So, they're heavy because they're doing heavy-duty stuff.
If your cuticles are in need of some moisture, start with one of these five nourishing cuticle oils.