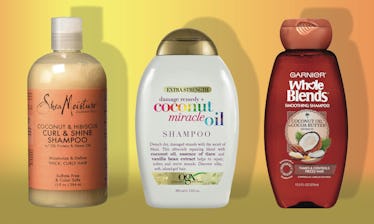 Hydrate & Repair Your Hair With These 5 Powerhouse Coconut Oil Shampoos
Elite Daily/Amazon
Much like a viral meme, coconut oil's rise in popularity was swift and all-consuming. Seemingly overnight, it went from a barely used ingredient to a beauty (and cooking) staple capable of doing everything from removing makeup to whitening teeth. Of course, one of coconut oil's crowning achievements is its many hair benefits, which include repairing damaged hair and taming frizz. Concentrated leave-in treatments are a go-to choice for many, but a quick wash with one of the best coconut oil shampoos is another solid way to achieve smoother, healthier hair in mere minutes.
That being said, coconut oil hair products aren't one-size-fits-all. Folks with curly or thicker hair (or hair that's particularly damaged from things like over-processing and over-styling) can indulge in richer formulas without worrying about their hair getting weighed down. Meanwhile, dry, damaged hair types might want to consider a shampoo that's sulfate-free, since sulfates, which are used to give shampoo a foamy lather, can exacerbate dryness by stripping hair of its natural oils.
If you have thinner or more fine hair, you might find that you don't need to use such a nourishing shampoo on a regular basis. Try working a coconut oil shampoo into your routine one to two times a week to help soften your hair and repair damage. Also, be sure you choose a shampoo that isn't specifically formulated for thicker hair.
To help get you started, here are five of the best coconut oil shampoos on the market — and they're all under $10!