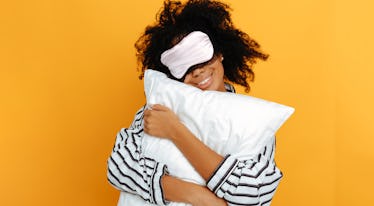 With These Thrifty Pillows, You'll Always Wake Up On The Right Side Of The Bed
A comfortable pillow is the key to getting a good night's sleep while keeping insomnia, muscle aches, and other nocturnal woes at bay. But investing in new pillows can be ridiculously expensive. That's why I've put together a list of the best cheap pillows on Amazon. I researched products and read through reviews to find pillows that are the perfect combination of quality and price, basing my decision on two key factors:
Comfort: How soft is the pillow? And how well does it cradle your head? I sought out options that are cozy, supportive, and offer just the right amount of density, with fillings that range from plush microfiber to cooling gel and hypoallergenic bamboo — two options on my list are even customizable.
Durability: Does the pillow seem like it's made to last? Typically, fabrics like polyester, cotton, and rayon will offer the most durability without sacrificing any comfort.
Apart from these considerations, I looked for selections that are hypoallergenic and machine-washable for convenience. I also gave bonus points for special features like adjustable thickness or cooling properties. Check out my list below of the best cheap pillows on Amazon, so you can find the most ideal fit for your bed.