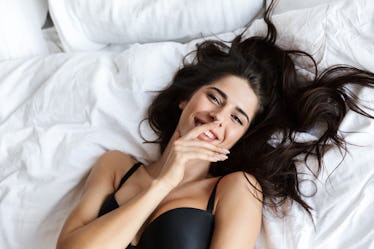 These 5 Sensational Bullet Vibrators Are Proof That Size Doesn't Matter
Good things come in small packages — and that sentence has never been truer than when you're talking about bullet vibrators. These tiny toys pack a serious punch, delivering intense vibrations to both your clit and your vagina. They're especially great for travel, because the majority of them fit in the palm of your hand and run on just one AA battery. A bullet is a mainstay in any sex toy collection — but a good one can be hard to come by — which is where this guide to the best bullet vibrators on the market comes in.
The beauty of a bullet is, because it's so teeny, it's super versatile. Yes, it stimulates your clit, but it's also wonderful to use around the opening of your vagina — an erogenous zone that doesn't typically get stimulated on its own. Bullet vibrators are also great for breast stimulation, and can be used on partners with prostates, too. Just place the bullet against the perineum — that length of skin right between the genitals and anus — and let it rip. It'll deliver a vibrating sensation that will drive your partner wild.
Ready to dive in? Ahead, find the best bullet vibrators that you can get on Amazon.