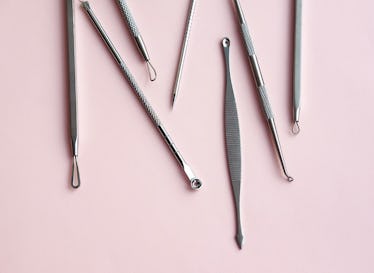 These Blackhead-Removing Tools Allow You To Live Out Your Dr. Pimple Popper Fantasies
Doing your own extractions is one of the most widely debated topics in the beauty industry. While some dermatologists and aestheticians advise against it, others give at-home extracting the go-ahead as long as you're doing it in a safe and hygienic manner, and not going overboard. The first step to unclogging those pesky pores in the comfort of your own bathroom is to invest in one of the best blackhead remover tools. Then, you'll want to follow the advice of a trained aesthetician, like Renee Rouleau, who details how to properly extract your own blackheads on her website's blog.
Rouleau recommends doing your extractions right after showering, when the heat from the water has softened the sebum in your pores. She then suggests applying a light coat of moisturizer to trap in the heat, followed by plastic wrap and then two hot, damp washcloths (on top of each other) over the area you plan on extracting. All of this will make your skin and the sebum clogging your pores even softer, which is crucial to safely and effectively removing blackheads. Then, you can go to town with your extractor tool, but if your blackheads don't pop out with a little pressure, don't keep at it — that's how scars, burst blood vessels, and other damage can happen. When you're done, wash your face again, or use an astringent toner to clean out whatever is left behind.
Another important tip is to clean your tools with rubbing alcohol before and after each use to avoid the buildup of bacteria. Use a dirty blackhead extractor, and you might wind up causing breakouts.
Ahead, find the best blackhead remover tools to help you on your journey to clearer skin.