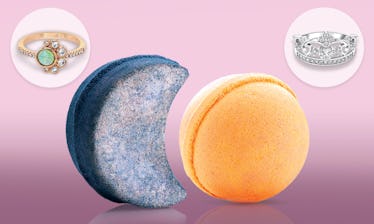 These Bath Bombs Have A Surprise Inside — And It Might Be Worth Some Cash
Amazon/Bustle
Bath time just got an upgrade with these bath bombs. Not only can you (or those you're gifting) enjoy the fizzing action, skin-softening effects, and delicious scents, but the best bath bombs with rings have a surprise at the end to wear even after the smell has gone away.
Science has shown that baths offer a ton of health benefits like better sleep, relief from muscle soreness, and maybe even reducing the risk of a heart attack. But for the most fun in the tub, there are a few bath bomb must-haves: First, it has to not stain the tub, and then, you'll want to look for moisturizing ingredients like shea butter and avocado oil so it won't dry out skin.
Beyond that, it's all about personal preference. A great bath bomb has to have a scent you'll love. Consider the brands coming out with treats scented with essential oils, offering even more soothing abilities. And then there is the question of ring quality. Some luxurious bath bombs even offer Swarovski crystal or sterling silver jewelry in the middle, but for kids or those who likely won't wear their rings around, less expensive versions are also available.
No matter your preference, sit back and enjoy the best bath bombs with rings and bring the fun back to bath time.