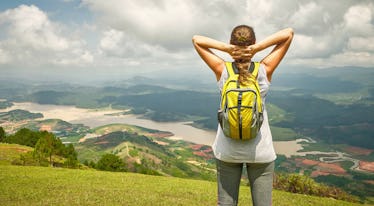 These Efficient Backpacks Are The Ticket To Carefree Traveling
Whether you're on a long vacation abroad or a quick weekend getaway, having the right backpack can make or break your trip in terms of efficiency and comfort. The best backpacks for travel will vary depending on your destination, but there are a few qualities they will usually have in common.
First, they should be constructed from durable material. The last thing you need while you're exploring a foreign country or embarking on a tropical getaway is a bag with broken zippers or worn-out fabric. Materials such as ripstop nylon, Oxford canvas, polyester, and other tough fabrics will be best, along with strong metal components.
Secondly, they should have the right amount of storage space with pockets and compartments that fit your specific needs. These will be different, depending on the trip. If you're on a day or weekend trip, for example, a pack in the 20- to 35-liter range will be perfect. If you're packing for three weeks in Europe, on the other hand, you'll want to be in the 50- to 55-liter range.
Lastly, check out the structure of the bag to determine if the pockets and pouches fit the belongings you're planning to bring. For instance, you may want a padded laptop sleeve to store your computer, or a smaller designated compartment to hold your tablet.
Below is a list of the best backpacks for travel in a variety of sizes and styles, so you can easily find the one you need.