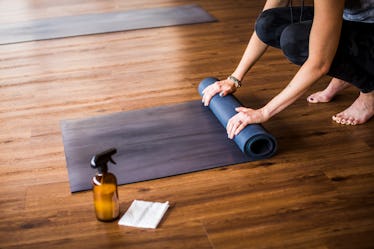 Here's How To Properly Clean Your Yoga Mat — & 4 Products That Can Help
VisualCommunications/E+/Getty Images
Keeping your yoga mat free of unwanted odors and germs will not only make your practice more hygienic but more pleasant overall. For daily or regular upkeep, the best yoga mat cleaners use gentle, natural ingredients with antimicrobial and antibacterial properties that won't damage your mat or leave a filmy residue behind. But, if you're willing to do some scrubbing, you can also follow the same protocol as you would when you wash your plates: dish soap and water.
Daily Cleaning
To break up sweat and odors as soon as your session is over, a spray or a wipe will make the job as easy as possible. While a spray will need to be paired with a paper towel or a microfiber cloth, a pack of wipes is an all-in-one solution that's also more portable (however, alcohol-based wipes like the kind from Clorox will be too abrasive). For those who are more eco-minded, there are even biodegradable wipes specifically made for mats.
In terms of formulas, you'll find most feature essential oils and other all-natural ingredients that not only smell great, they also have proven antibacterial properties (and lack any chemical agents that damage the surface of porous mat). Studies show, for example, that lavender has antibacterial and antifungal properties. Similarly, there are studies that demonstrate that tea tree oil is an antimicrobial agent, as is eucalyptus oil. Finally, witch hazel has noteworthy antiseptic and astringent properties that can help remove oil and dirt from your mat.
Keep in mind that some essential oils are known irritants, especially if you have sensitive skin. Also, if your pet likes to linger during your chaturanga, take note that exposure to tea tree oil can be harmful to them.
Deep Cleaning
If you're an avid yogi, it's recommended that you hand wash your mat at least once a month (or more if you do hot yoga). To do this, simply add a few small drops of gentle dishwashing soap into your tub or sink, wash off both sides of your mat, and then let it air dry completely before rolling it up again.
Ready to freshen up your practice? Check out a few of the best yoga mat cleaners you can find on Amazon below!
We only recommend products we love and that we think you will, too. We may receive a portion of sales from products purchased from this article, which was written by our Commerce team.