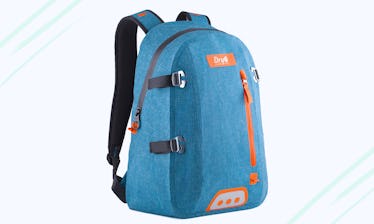 Yes, Waterproof Laptop Backpacks Exist — And These Are The Best Ones On Amazon
Whether you're commuting to work, or planning a rainy weekend getaway, the best waterproof laptop backpacks will ensure your valuables stay dry. But what should you look for when you're shopping around?
The first decision is how waterproof your bag needs to be. There's a wide range of options, and the terminology can be confusing. Often, bags that are labeled as waterproof are in fact only water-resistant. If you're commuting in light rain, these will do just fine, but if you're navigating heavy downpours or involved in water sports with a chance of full-submersion, you'll want a pack that's fully waterproof.
The main tradeoff between the two is that the more waterproof a bag is, the less malleable it tends to be. Fully waterproof bags are usually constructed from materials like vinyl, PVC tarpaulin, or other thick fabrics that are more rigid. Water-resistant bags, on the other hand, are usually made of nylon, polyester, or other flexible fabrics (and then coated with a waterproof treatment). They offer greater mobility, but won't be as protective in heavy downpours.
Another key factor is the closure system — one of the areas most vulnerable to water leakage. Fully waterproof backpacks usually have roll-top, dry-bag-style closure systems. Others have heavy duty zippers reinforced with plastic or thick seals. Velcro tends to be the least waterproof option.
With all of that in mind, I've rounded up the best waterproof laptop backpacks below, arranged from smallest to largest, so you can find the best fit for your lifestyle.