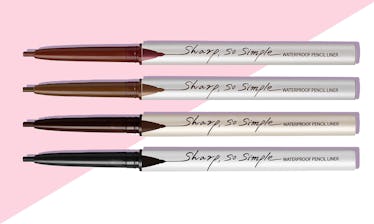 Yes, Some Eyeliners Are More Adept At Tightlining — And These Are The Best Ones
If you're an eyeliner aficionado, you're likely already familiar with the technique of tightlining. It's a simple step that makes a huge difference in the way your makeup looks — before sketching your liner along your top lash line, you run it along the waterline of your upper lashes. The result? Fuller looking lashes and a more cohesive liner look overall. But there's a snag — you need a good liner to pull this trick off. Naturally, you'll want to pick up one of the best waterproof eyeliners for tightlining.
Waterproof liner and tightlining are a serious match made in heaven. Since this liner is sitting pretty much directly inside your eye, you need to ensure it stays put. The best way to keep things neat? A waterproof formula. This way, you'll ensure your line stays where it's meant to all day long.
But don't just go swiping any 'ol liner into your waterline. Even though plenty of folks love liquid liners when they're looking for waterproof options, they tend to run when applied in your eye. That leads to irritation and tearing, which can ruin the makeup you've tediously applied. So gels and pencils tend to fare better, since they dry quickly and are a lot easier to apply to your upper waterline. Make sure to test drive any eyeliner you pick up to ensure your eyes aren't sensitive to it, and toss anything that makes your eyes itch or burn.
Got all that? Great. Ahead, find our picks for the best waterproof eyeliner for tightlining.