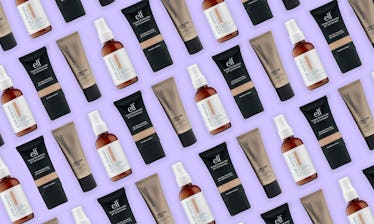 If You Have Dry Skin, These Are The Tinted Moisturizers To Use
Amazon/Bustle
Moisturizer is a crucial part of every skin care routine. Hydrating your face is essential to maintaining elasticity, plumpness, comfort, and the overall health of your dermis. It's especially crucial for dry-skinned folks like me, but sometimes, you just don't have the time. This is where investing in a multi-tasking product comes in — one that'll cut down on your morning routine without skimping on the results. One of the greatest two-in-one inventions out there has to be tinted moisturizer. But when searching for the best tinted moisturizers for dry skin specifically, things can get tricky.
For anyone with a dry or dehydrated complexion, finding a formula that keeps your skin moist and supple without irritating delicate patches or causing further redness can be a real challenge, and if you have other skin concerns — like an oily T-zone or adult acne — you'll want a formula that's non-comedogenic to boot. That's why this list takes more that one skin type into consideration. And of course, you always want a moisturizer that offers some form of sun protection. With the addition of an SPF of at least 20 in each product, you're technically getting a three-in-one value.
Additionally, like most skin-centric cosmetics, many of the shade ranges for tinted moisturizers are absolutely abysmal. That's why the very first product on this list is a tinted moisturizer that comes in a variety of shades. And while quantitatively it may have fewer options than some of the others on this list, many tinted moisturizers with "more shades" actually just mean "more shades for light skin."
I also put in some real time trying to find a universal tinted moisturizer that actually works across skin tones, because if a product is going to claim universal, they better mean business. In a post-Fenty Beauty world, I am remiss to glorify cosmetics companies that don't provide extensive offerings to people of color, but I'm hoping that there is truly something on this list for everyone, regardless of skin type or tone.
So whether you're dry and oily, dry and in need of serious sun protection, or just plain effing dry, you're sure to find a formula that caters to your specific needs, below.