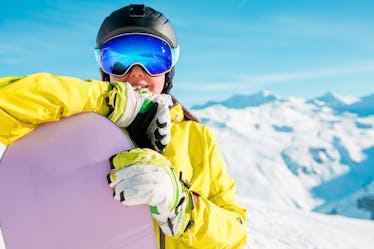 These Are Hands Down The Best Snowboarding Gloves To Wear On The Slopes
fotolia/Sergey
When shopping for the best snowboarding gloves to keep your hands warm, there are several things to consider, namely insulation, the outer material of the glove, the liner inside, and how well they block out cold air. I've broken down these four factors, and what you should look out for, below.
Insulation: Great snowboard gloves are insulated with some sort of synthetic loft to keep your hands warm while you're out on the slopes.
Shell: Finding a glove with a durable exterior shell is essential, not only because it prolongs the life of your gloves, but also because it will protect your hands from snow and water as you snowboard. Look for shells made with a blend of polyamide or leather components, and one coated in waterproof, windproof treatment.
Liner: A solid snowboarding glove will also be constructed with liners made from a soft, fleece-like fabric or brushed microfiber. Removable liners are typically preferable because they let you control your temperature and they're easier to clean.
Closure system: Whether they're built with straps, Velcro, or another mechanism, you'll want a pair of gloves that can cinch down tightly to keep them snug on your wrists and protect you from wind, snow, and ice.
On top of these considerations, good snowboard gloves will also have bonus features like palm grips, special pockets, touchscreen compatibility, and wrist leashes. Below, I've gathered some of the best snowboard gloves to keep you cozy all season long.