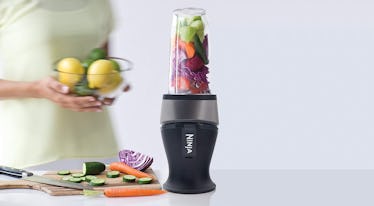 Smoothie Lovers, Rejoice: These Mini Blenders Barely Take Up Any Counter Space
If you're a smoothie addict like me, you need a quick and easy way to get your fix in the morning — and that means something small and compact. The best small blenders for smoothies will be petite and bulk-free yet still powerful enough to get the job done.
When it comes to this factor, it's all about wattage. You can't expect a machine to grind up tough fruits and vegetables without a strong motor. In smaller blenders, wattage will range anywhere from 200 watts to 1,000 or more, depending on the style. The higher the wattage, the quicker and more efficiently your ingredients will be blended (meaning your final product will be smoother and silkier).
Another thing to consider when shopping for blenders are the blades. Whenever possible, go with stainless steel, which will be sharp and durable enough to cut up your fruit. Also, you may want to figure out whether the blades can crush ice; not all blenders are capable of this, especially the smaller ones. Since most manufacturers will claim their blender crushes ice, the best way to determine whether that's true is by reading the reviews.
Other than that, think about things like the blender cups (Are they made of durable plastic? Are they the size you need?) and extra accessories, like a travel lid or recipe book. Considering these factors, I've compiled a list below of the best small blenders for smoothies. Take a look to find the right one for your morning routine.