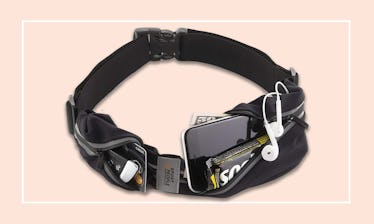 These Slim & Comfy Running Belts Can Fit Even The Biggest iPhone Models
Whether you want to listen to music, snap photos, or keep up with texts, it's awesome to be able to bring your phone along on a run. But let me tell you from personal experience that not all running belts are created equal. Some of the most common (and annoying) issues with them include sliding down your hips, bouncing around, and chafing your skin. In contrast, the best running belts for iPhones will offer a seamless way to carry your phone without adding too much extra weight or bulk.
When you're shopping around, think about these potential annoyances. Reading through reviews can be a really helpful way to see how well a belt will stay in place without slipping around, bouncing, or chafing.
Also, think about how well you want your belt to hold up against moisture. In my list below, I've included belts that offer a varying degree of water-resistance, as well as one pick that's fully waterproof.
Lastly (and perhaps most obviously), make sure it will fit your phone. My list below of high-performance running belts will fit some of the largest iPhone models out right now (aka the iPhone XS Max and X). Read on to find the right match for your next run.