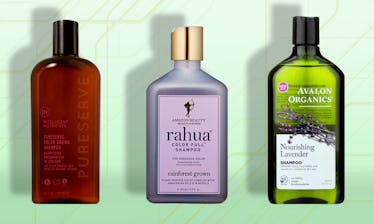 4 *Actually* Organic Shampoos That Will Bring Color-Treated Hair Back To Life
Amazon/Bustle
In the United States, shopping for a legitimately organic shampoo is so much harder than it should be. Because there's no real industry standard for what constitutes a "natural" or "organic" beauty product, many brands slap those terms on their labels even if the formula only contains one organic or plant-based ingredient. Unfortunately, that means if you're searching for the best organic shampoos for color-treated hair, your options are going to be severely limited. In fact, there's only one USDA certified-organic shampoo that's made specifically for dyed on the entire market.
If you're only interested in buying a shampoo that's been approved by the National Organic Program (NOP) within the US Department of Agriculture, the sole option is Intelligent Nutrients PureServe Color Saving Shampoo, as it boasts a rare USDA organic certification. But there are also other types of organic certifications, too, namely, the NSF/ANSI 305, which demands a product must contain at least 70 percent organic ingredients, but doesn't meet the same NOP standards (though, for what its worth, the NOP's standards were created with food products in mind, which limits their applicability to beauty products). There's also the OASIS standard, which is similar to the NSF/ANSI 305, but varies slightly. Then, you have international certifications, like Ecocert and Cosmebio (France), the Soil Association (UK), BDIH (Germany), ICEA (Italy), and COSMOS, which was formed by all five of the aforementioned European associations. California has its own organic program, too (the CDFA), as well as an organic farmers association (CCOF).
Another important thing to note when it comes to shopping for organic shampoos for dyed hair is that avoiding sulfates is crucial. This doesn't relate to a product's organic-ness, but sulfates are a major no-no for color-treated hair since they're known to further exacerbate dryness and can even cause hair color to fade. That means that, even when taking foreign countries' organic certifications into consideration, your options become even more limited, as many organic formulas — even those that claim to be for dyed hair — still contain sulfates.
With all of that in mind, I've rounded up a handful of the most trustworthy organic shampoos for dyed hair on the market, below.