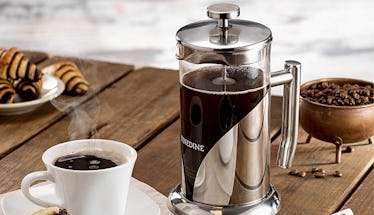 For All Of The Flavor & None Of The Toxins, These Are The Best Coffee Makers To Get
While trying to figure out the safest materials for your coffee maker, it's easy to fall down a rabbit hole of research. If you're shopping for the best non-toxic coffee makers, you may already know to avoid plastic, which can leach harmful chemicals like BPA. But there could also be aluminum parts lurking inside that single-serve or drip coffee maker — a material that does not do well when mixed with a hot, acidic drink like coffee.
After doing a lot of research, I've found that borosilicate glass is one of the safest materials for coffee. It's durable, heat-resistant, and doesn't leach harmful toxins, so it won't affect the taste of your drink. After that, your next best choice is probably a high-quality stainless steel (just be sure it doesn't contain a mix of aluminum or any chemical-laden coatings).
If you want a coffee maker that's comprised of these safer materials, you'll have to go with something simple, which may mean more prep time than you're used to. That said, while something like a French press or a pour-over coffee maker requires more time, not only is it possible to find models without plastic or aluminum, but you're also going to get a better tasting cup of coffee.
Whether you're interested in a large-batch percolator or the best cold brew coffee maker, you can find the right choice for your preferences below. Take a look at my list and get ready to enjoy a cup of coffee that's full of flavor and free of most toxins.