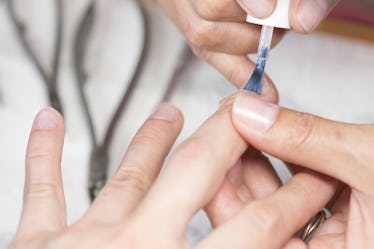 This Nail Strengthener Will Save Your Nails After Acrylics — & It Only Costs $8
As fun and pretty as they can be, acrylic nails tend to wreak havoc on your nails. But thankfully, healing your natural nails is totally doable if you use the best nail strengtheners after acrylic nails. Whether you're swearing off acrylics for good or just giving your brittle nails a break, the products listed below can help restore your natural nails.
No matter what kind of strengthener you're in the market for — from a vegan option to a budget-friendly one — you'll want to make sure your pick contains nail-nourishing vitamin E, a powerhouse ingredient for healing dry nails and strengthening brittle ones. While some of the options below also contain nutrients like calcium, vitamins A and C, plant extracts, and various proteins, all of them contain the all-mighty vitamin E to help give your nails a regenerative boost. Additionally, all the products in this roundup are formaldehyde-free nail strengtheners, and are good choices if you're looking to steer clear of that ingredient.
Although results may vary depending on the state of your nails, all of the picks below should show significant improvement within weeks, with many Amazon reviewers commenting on impressive results within days.
Take a look at the best nail strengtheners below. All of them are less than $20 and come highly rated on Amazon.