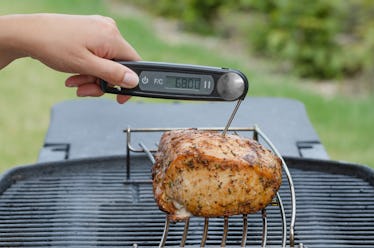 These Precise & Reliable Meat Thermometers Will Save Your Summer Cookouts
fotolia/Stepanek Photography
There's nothing better than a sizzling steak or burger on the grill — that is, if you're confident in your skills. Here's the good news: Not only are the best meat thermometers for grills simple to use, they can also help you grill a perfect piece of meat without a hitch, every single time.
Before you buy, be honest about which type of griller you are. While a lot of people tend to hover around the grill, constantly poking at their meat, I, for one, am not like that. I'm more likely to get caught up in another task and burn my burgers to a crisp. If you're like me, you may want to invest in a wireless meat thermometer that checks on your meat for you and beeps when it's ready. But if you tend to stay close to the grill, you may save money by buying a digital option without the bells and whistles.
Consider is your own comfort level when it comes to cooking meat. For example, if you feel confident in your skills, a simple, basic meat thermometer may be the right choice for you. But if you aren't really sure just how pink your steak should be in the middle, you may want to splurge on a super accurate digital or laser thermometer instead.
No matter which way you go, the best meat thermometer for grills can take all the stress out of the task. Keep scrolling and you'll be grilling in no time.