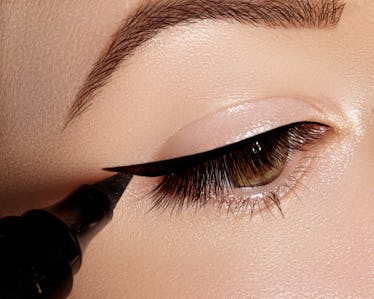 These Precision Liquid Liners Will Give You The Perfect Cat Eye Every Time
It's hard to think of a more classic, always reliable makeup look than a cat eye. Across the board, they pretty much look good on everyone, and it's an easy way to amp up any outfit. To achieve the perfect cat eye, however, you need to master the tricky art of liquid liner. Drawing wings is no easy task, but if there's one way to make it easier, it's by investing in one of the best liquid liners for cat eyes.
If you're relatively new to dramatic eye makeup — or even if you're not, because let's face it, it's always difficult — you might be wondering how to get the perfect cat eye. You'll want a line that starts thin and gets thicker before it turns into a swooping wing on the outer corner of your eye. Some folks prefer a shorter line that gives your eyes a little extra oomph, and some prefer a big wing that extends along the diagonal towards the thinner edge of your eyebrow.
If you're just starting off, you might want to go for a more simple look and use a liner stamp for help. Once you've graduated from beginner to advanced, then maybe you'll want a thinner-tipped option, or you're willing to spend a little more money for a higher-quality formula. We've included all these choices and more in the list below.