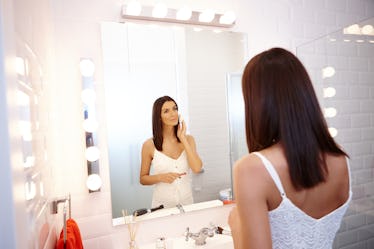 Yes, Certain Light Bulbs Are Better For Your Bathroom Vanity — & Here Are 4 Of Them
fotolia/nyul
Fair warning, finding the best light bulbs for a bathroom vanity requires a little bit of upfront thought. That's because the best bulb for your bathroom depends entirely on how large the room is and how many light fixtures you have to fill. So what do you need to know?
First, choose an LED light. Not only do LED light bulbs save you money on your electricity, but they're better for the environment. To top it all off, they produce a true-to-natural light that's perfect for when you're getting ready in the morning.
Next comes the math. The size of your bathroom and the total number of light bulbs you have around your vanity will be key in deciding which bulbs are right for you. Experts recommend your bathroom's task lighting have a total of 700 to 800 lumens of light for every 10 square feet of space. Since lumens are cumulative, you can add your bulbs collective lumens together to measure the light in your space.
Now, the more light bulbs in your vanity, the fewer lumens each bulb has to produce. While some vanities are set with 10 bulbs that screw in around a central mirror, others have two sconces on either side of a mirror. Keep your space in mind as you shop.
If this math seems overwhelming, believe me, I get it. Here's a guide to the best light bulbs for bathroom vanities to help you out.