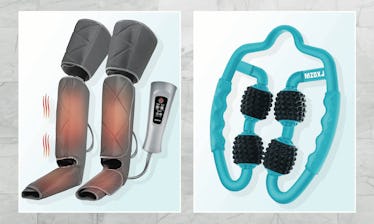 These Genius Leg Massagers Can Soothe Sore, Achy Muscles — & Yes, You Knead One
You already know that massages are one of the best ways to soothe sore, achy muscles, but when the tension is concentrated in your lower body, one of the best leg massagers can provide targeted pain relief. These devices come in two key styles — wearable and handheld — each with different massaging techniques, so as you shop, consider your budget but how hands-on (or off) you want to be.
Wearable Compression Leg Massagers
If your goal is to sit back, relax, and let your massager do the work for you, consider a wearable style that wraps around your legs like a boot. Using compression-style massage, they have built-in airbags that inflate and deflate to apply pressure to your muscles (a technique that can help improve circulation and swelling). Models that extend to the thigh or come with a heating element will give you the most coverage and versatility, but you'll pay more. Either way, they'll need to be plugged in, so note that you'll have to be able to set up near an outlet.
Handheld Leg Massagers
Handheld massagers can give you more freedom, not only from outlets but in the areas you focus on. A percussion-style massager is customizable and the closest thing you'll get to a massage therapist. Using rapid taps that mimic kneading hands, these rechargeable devices can pinpoint one spot at a time — like a tight quad muscle — but your session will only last as long as your battery life (about two hours). To gauge intensity, look at the device's revolutions per minute (RPMs) — anything that can go higher than 2,000 RPM will deliver enough pressure to really work out knots. A low-budget leg massager with mini foam rollers won't be as deep-tissue, but it can offer a nice myofascial release.
Now that you know what to look for, you'll find a list of the best leg massagers on Amazon up ahead.
We only recommend products we love and that we think you will, too. We may receive a portion of sales from products purchased from this article, which was written by our Commerce team.