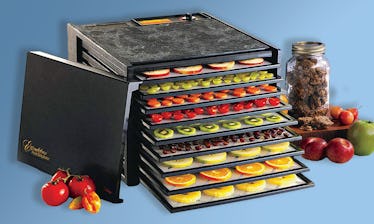 From Fruit To Jerky, These Are The Best Food Dehydrators On Amazon
Amazon / Bustle
For homemade jerky or fruit leather, a kitchen equipped with the best food dehydrator makes preserving food at home easy. These nifty appliances come in all shapes and sizes, but all work to dry food and preserve it by removing the moisture. To find the best dehydrator for you, consider the size of your kitchen and about how much food you want to preserve at a time.
Two major categories divide dehydrators: those with vertical airflow versus those with horizontal airflow. Dehydrators with vertical airflow tend to be more compact and budget-friendly, though they can be expanded with additional trays. But, if you have more space to work with and are dedicated to dehydrating food on the regular, you may prefer a machine with horizontal airflow, which tends to heat and dry more evenly, but will be larger and weigh more. In either style of dehydrator, food is placed on trays and the capacity among models varies.
If you're set on making jerky in a dehydrator, it may be worth investing in one with a higher temperature range. Meat destined for jerky needs to be heated to at least 160-degrees Fahrenheit (and to 165 degrees for poultry) before drying, so it's convenient to take that step in the dehydrator itself instead of the oven. A machine with more wattage (aka power) also means faster drying times, and for best results the minimum wattage you want is at least 500. Bonus features on a dehydrator may include a timer, automatic shutoff, inserts and extra trays, recipe booklets, and warranties.
With that in mind, it's time to shop. All of the food dehydrators below are highly-rated on Amazon.