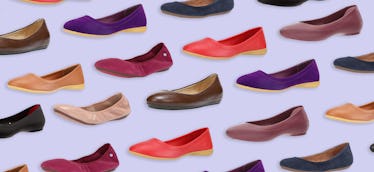 These Comfortable Flats Were Made For Walking — & That's Just What They'll Do
Amazon/Bustle
Packing for a trip can be a nightmare — especially when it comes to lugging around a suitcase full of shoes. You want to make sure your shoes are comfortable, for sure, but you also don't want to have to wear sneakers with every outfit. The good news? The best flats for walking can protect your feet and keep you comfy without compromising on style.
No matter if you're walking around your city or going on a long trip, comfort and support are the most important factors in choosing a shoe. The most comfortable flats on the market usually have a special insole or insert for added support. Some options include high-density memory foam that molds to the shape of your foot or a sweat-wicking microfiber liner that repels odor. Other flats even feature inserts that can be removed or replaced.
You'll also want to consider the weather you're trekking through. For example, if you'll be in a rainy area with lots of puddles, you'll want to invest in waterproof flats with a rubber sole to keep your feet dry. But if the weather's a bit drier, your options are more open. You could even opt for suede or leather flats that stretch and bend as you move throughout the day.
No matter which way you go, finding the best flats for walking is key. Here's a roundup of some of the best options out there to help you narrow down your choices.