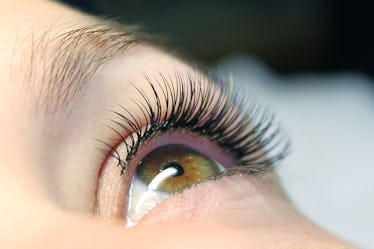 These Eyelash Growth Serums Are The Key To Longer, Thicker Lashes
Eyelash-enhancing products and treatments — like extensions, falsies, and fiber mascaras — have gotten more popular than ever over the years. But for those looking for something a bit more permanent, investing in one of the best eyelash growth serums might be the better option. Not only do they promote fuller, longer lashes, but because they're conditioning, your lash hairs will become softer and healthier in the long run, too.
The main difference between eyelash serums lies in their ingredients. Some more natural options rely on castor oil, which many swear by for thickening their lash and brow hairs, while others formulas use biotin, which has long been used to encourage the growth of longer, fuller hair. Most of these serums can be used on your brows, too. But if you have sensitive skin or eyes, be mindful of the ingredients.
"The prostaglandins [which are present in a lot of growth serums] can cause local and ocular irritation," says Dr. Melissa Toyos, MD, general ophthalmologist at Toyos Clinic in Nashville, Tennessee. "You shouldn't use the eyelash serums if you have an allergy to any of the ingredients, or if you have an uncontrolled eye disease, like iritis or uveitis." Most of the time, this type of irritation is no cause for concern and can be easily treated. "Because most of my patients can't live without long lashes, I use eyedrops like Lumify Redness Reliever Eye Drops to counter side effects if they occur." If you develop an allergic reaction that causes swelling, redness, or dry, flakey skin, discontinue using the serum and go see your doctor.
Most over-the-counter lash serums are perfectly safe to use, though, and you'll find four of the best eyelash growth serums below.