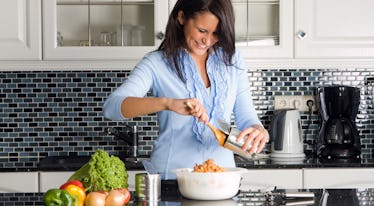 These Electric Can Openers Will Make Your Life So Much Easier
Anneka/Shutterstock
Modern cooks know that having one of the best electric can openers at their disposal makes the process of opening canned goods super simple regardless of strength and luck. Unlike manual hand-crank openers that require you to push and pull, all you have to do is press a button or flip a switch with these. Some will even pop the lid for you, or do other things like open bottles.
There are primarily two different cutting types of can openers: top-cut or side-cut. Both of these styles have pros and cons. Top-cutting openers provide a clear, visible cut and often removes the top of the lid using a magnet for you. The downside to these openers is that they usually leave a sharp edge that can cut you if you're not careful. The side-cutting openers generally make a smoother, safer cut around the can. But with this type of opener, it can be hard to see if it was cut and you may have to pry the top off manually.
For those looking for an electric can opener but don't want to take up valuable counter space, there are battery-powered, hands-free versions. When not in use, they can be easily stored in your kitchen drawer out of sight. These openers are also portable, so you can take them with you out camping or on trips.
To help you on your search for the perfect opener, here's my list of the best electric can openers on Amazon.