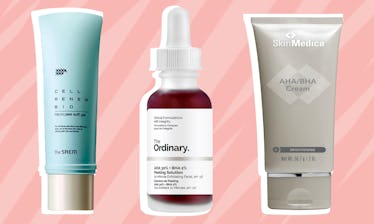 The Best Dupes For Drunk Elephant's Glycolic Night Serum — That Cost A Fraction Of The Price
Amazon/Bustle
As far as serums go, Drunk Elephant's T.L.C. Framboos Glycolic Night Serum is a cult-favorite among beauty editors, bloggers, and skin care experts. It utilizes 12 percent AHA/BHA in the form of a gel to chemically exfoliate and resurface your skin — the result being a smoother, clearer complexion that looks brighter and more even in terms of tone and texture. It also helps unclog your pores, which can make them appear smaller. The problem? At $90, not everyone can afford it. That's why the internet is obsessed with finding the best Drunk Elephant Glycolic Night Serum dupes. And lucky for you, I've researched (and compiled below) the three best out there.
One of the most important things to look for when searching for a Drunk Elephant dupe is a mix of AHAs and BHAs. This is because, when combined, these two acids become a powerhouse of an exfoliator. AHAs help to loosen dead cells on the top layer of skin and shed them, which allows BHAs to deeply penetrate and exfoliate your pores. And while these two acids will work fine on their own, the combination is, in part, what makes Drunk Elephant's serum so effective.
So after scouring Reddit, beauty blogs, and going down quite the research rabbit hole, I've rounded up the four best Drunk Elephant T.L.C Framboos dupes below. And while Drunk Elephant's glycolic acid serum is an investment-worthy product for those you can afford it, if you can't then these formulas can still work like magic for your skin — and are very easy on the wallet.