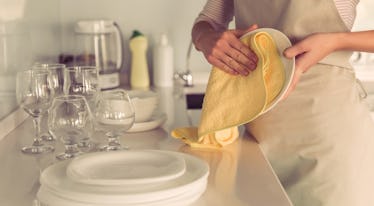 Absorbent, Quick-Drying, & Built To Last, These Are The Best Dish Towels On Amazon
You wouldn't think something as simple as dish towels could make such a difference in your life, but truly it can. The best dish towels will be soft, fresh-smelling, and completely fuzz-free (unlike those old kitchen towels that leave lint all over your water glasses).
When picking out a set of towels, the first thing you should think about is material. While there are lots of microfiber options out there, cotton is usually a better choice for dish towels because it's softer, which makes it easier on your hands and gentler on your dishes. It also tends to be more durable, so your towels will last longer, and it doesn't have the lint problem that microfiber does.
The other big factor is size. This largely comes down to personal preference, but think about your kitchen and the dishware you have in it. How big are the racks you hang your towels on? What kind of dishes will you be drying? These questions will be helpful when you're thinking about what size to purchase.
Lastly, make sure your towels are machine-washable. If you're anything like me, "hand-wash only" might as well read "that's never getting washed," so it helps to be able to toss them in the washing machine. Experts recommend washing dish towels daily, so the easier it is to do this, the better.
With all of that in mind, I've put together a list of the best dish towels to help you find the best fit. All of my picks are machine-washable, 100-percent cotton, and ready to tackle whatever kitchen task you have in mind.