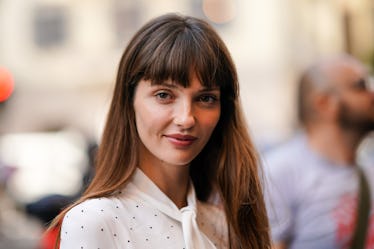 This Crème de la Mer Dupe Only Costs $10 (& It's Available On Amazon)
Edward Berthelot/Getty Images Entertainment/Getty Images
In the pantheon of luxury, cult-favorite beauty products, Crème de la Mer ranks pretty high as a coveted beauty product. Why? It's known as the crown jewel of moisturizers, calming the roughest, most chapped skin overnight. Sea-sourced ingredients, like seaweed extract, infuse the skin with some major hydration. Plus, it smells amazing. The only catch? It's got a price tag of $325 for a 2-ounce jar. So you can imagine the amount of research the internet has put into finding the best Crème de la Mer dupes. Trust me — people have gone deep into finding similar products for cheaper prices.
And truthfully, there are a lot of pretty decent alternatives out there that don't cost the same as a pair of designer shoes. Plenty of brands have created similar formulas that are much more wallet-friendly — and are great options to play around with if you're looking for a similar affect to Crème de la Mer.
Just a note on a lot of these products (and, as a matter of fact, Crème de la Mer itself). These formulas tend to be intensely hydrating, and might not be appropriate for folks who have sensitive or acne-prone skin. But if you're especially dry? Slather on.
Ahead, find the internet's best options for Crème de la Mer dupes. Good skin care doesn't have to break the bank — and these buys are absolute proof.