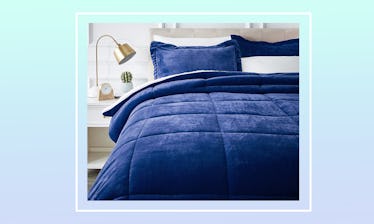 This Is Not A Drill: These Comforters Are Warm, Cozy, & All Under $65
There's nothing better than crawling under a fluffy comforter at the end of a long day; however, if you've ever shopped for bedding, you know it can be be expensive. Fortunately, Amazon is full of high-quality comforters at reasonable prices — the tricky thing is knowing where to find them. To help you out, I've made a list of the best cheap comforters on Amazon, according to both reviewers and my own research. When making my decisions, I looked at the following features:
Comfort: Does the material feel soft against your skin? Is the filling evenly distributed, or does it tend to bunch up? How cozy do reviewers say it feels overall?
Warmth: Does it do a good job keeping you warm? By the same token, it is breathable enough that you won't overheat? Do reviewers say it's pleasantly toasty or do they tend to wake up in a pool of sweat?
Durability: How thick is the material? Does the stitching look like it will hold up, or does it seem like it will start unraveling right away? Also, can it handle machine-washing or does it need special care?
With all of these factors in mind, take a scroll though my list below of the best cheap comforters to find the perfect fit for your bedroom.