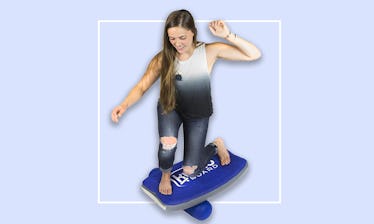 If You Snowboard, Training With These Balance Boards Will Keep You On Your Toes
There's nothing worse than enjoying a fresh powder day on the mountain only to have to quit halfway through because your legs are spent. The best way to avoid this scenario is by training regularly with the best balance boards for snowboarding — particularly early in the season, when your legs are usually the most out of shape. Working with a quality balance board will help strengthen your muscles, improve your balance, and refine your reaction time on the slopes.
When shopping for a balance board, the first decision to make is whether to get a solid or an inflatable version. Traditional solid balance boards are typically made out of wood and can't be adjusted for different skill levels. Meanwhile, many of the inflatable options offer more flexibility and varying levels of difficulty. Both styles have pros and cons — the wooden ones are sturdier and tend to feel more like a real snowboard, while the inflatable ones are more versatile and less likely to injure you or your furniture.
Beyond material, another thing to consider is the height. Beginners will typically want to start out on a shorter, one-piece style or a smaller cushion, while more advanced riders will want a longer roller with extra height to challenge their muscles and make it easier to practice tricks.
With all of these factors in mind, here's a list of the best balance boards for snowboarding for every skill level and athletic ability.