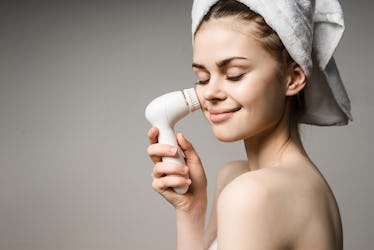 Want A Deeper Clean? These Are The Best Facial Cleansing Brushes You Can Buy For Under $40
If you've ever spent several minutes double cleansing your face only to be left with a hand towel that's still somehow streaked with foundation, a cleansing device will change the way you wash your face. Not only do they remove makeup with ease, but they also help improve the appearance and texture of your skin without adding a bunch of other steps to your routine. Though the most effective cleansing devices tend to be pricey, the best affordable facial cleansing brushes still get the job done without blowing your bank account.
Thanks to the pulsing brush head, these devices start by gently removing makeup and clearing pores of dirt and oil. While you wash your face, they also help exfoliate dead skin cells for a smoother appearance and pores that are less visible. Plus, because the brush heads work better to clean your skin, the products you apply after (like your serum and moisturizer) are able to be properly absorbed for better results.
Even sensitive skin types can use a cleansing device by making sure to choose a soft brush head and a device with a low speed setting. If you have sensitive skin, you may also want to start out by using the device just two to three times a week to see how your skin tolerates it. In addition to soft brush heads, many of these devices have other attachments you can choose from to personalize your skin care routine, including coarse brushes, exfoliating heads, and even rolling massage heads to increase blood circulation.
Ahead are four of the best affordable facial cleansing brushes that are Amazon-approved and all under $50. Grab your favorite face wash and start cleansing.