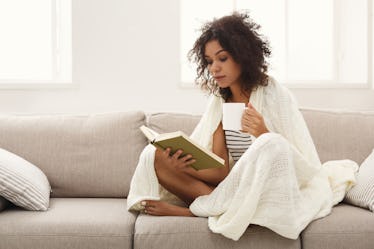 Snuggle Up, Because These Are The Softest Throw Blankets You Can Get On Amazon
Prostock-studio/Fotolia
There's nothing better than curling up in a soft, cozy blanket at the end of a long day. And for this reason, your quest for one of the softest throw blankets on the market is extremely valid.
While there are lots of comfortable blankets out there, you'll want to look for certain types of synthetic fibers in the fabric to ensure yours is undoubtedly soft. Faux fur, microfiber, and polyester fleece all provide that luxe hand feel and trap heat for total warmth. (Yes, they're great winter blankets, too.) Even better, the best fuzzy blankets are generally pretty affordable and often come in a variety of sizes and colors, making them easy to swap out or use as an accent to the rest of your room decor.
To guide your search for the comfiest throw, below, I've compiled a list of the best ones Amazon has to offer. They feel velvety-smooth, are versatile enough to use anywhere, and — here's the most important thing — are cozy enough to ensure you'll never want to leave your couch again. Want to up the hygge ante even more? Keep shopping, and check out the softest down comforters and the most comfortable pillows.