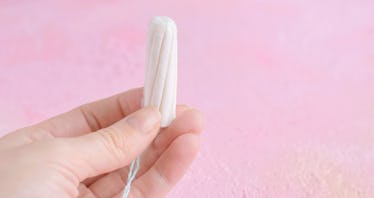 These Super-Absorbent Tampons Are — Gasp — Actually Comfortable To Wear
fotolia/Tetiana Ivanova
The comfort-level of your tampon is almost, if not equally, as important as its absorbency. In fact, the best and most comfortable tampons should enable you to go about your day and forget, at least for a little while, that you're on your period at all.
What makes for a comfortable tampon? Since compact tampons and those with smooth applicators are generally less bulky and easier to insert, these tend to be the best choices. Some compact tampons even come in a super size for days when your flow is heavier, so you don't have to sacrifice absorbency for ease. Ultimately, whether you choose one with an applicator or one without will come down to your personal preference.
Keep in mind that tampons don't all work the same. Some expand in width when they become saturated, while others expand vertically. While there's definitely benefits to both designs, tampons that expand vertically as they absorb may give you the sensation that your tampon is falling out. That's why tampons that expand horizontally may be more comfortable for a lot of people, especially if you need to go longer stretches of time in between changing them.
For more details on the most comfortable tampons, scroll down for the three top picks.