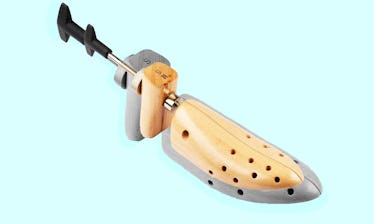 These Shoe Stretchers Are The Key To All-Day Comfort — & You Can Get Them On Amazon
Amazon/Elite Daily
Breaking in tight shoes doesn't have to be so painful, thanks to the best women's shoe stretchers. In just 24 hours — though sometimes they work even faster than that! — these miracle devices can transform stiff shoes into pure, personalized comfort. They're especially helpful for anyone with wider feet or anyone who's prone to bunions.
Stretchers generally come in two forms, plastic and wood, and each material has its own benefits. Due to their long-lasting and stiff shape, wood stretchers tend to be slightly pricier than their plastic counterparts. However, plastic stretchers are much lighter and more affordable. But here's a major tip: No matter which material you go with (I've included both kinds in my roundup, below), you'll likely get the most out of your chosen stretcher by pairing it with a shoe stretching liquid.
Without further ado, let's get into Amazon's best shoe stretcher offerings. The ones listed here are easy to use and ergonomically designed to suit any shoe style — yes, even high heels. Take your pick, and prepare to relish in how much better your shoes feel after just one use. (Spoiler: Your feet are already thanking you.) And should you want to add more layers of comfort to your favorite kicks, check out the best expert-recommended insoles next.