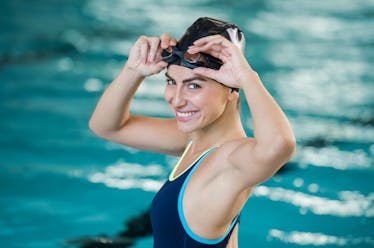 You Can Dive Right In With These Swim-Ready & Absorbent Tampons
fotolia/Rido
Whether you swim competitively or just have a beach vacation on the books, the best tampons for swimming can take the stress out of splashing around in the water while on your period. If you know you'll be in the water during your time of the month, keep your eyes peeled for tampons specifically designed for sports. Because sport tampons are designed with soft groves to hold them in place, these are the best for under-water activities or if you'll be moving around a lot.
You'll also want to match your tampon to the heaviness of your flow. (Not sure? Here's a helpful guide on determining what size tampon is best for you.) For reference, the best tampons for a heavy period are usually designed to absorb anywhere from 12 to 18 ounces of liquid. In contrast, a regular tampon will hold between 6 to 9 ounces of liquid.
Don't forget, most tampons need to be changed every five hours, so keep that in mind when you're lounging by the pool or body-surfing at the beach. And, if you prefer an organic tampon, there are still great options you can wear while swimming, but you might not see it labeled as a "sport" tampon.
Before you plan to hit the water, take a look at the three best tampons for swimming, below.