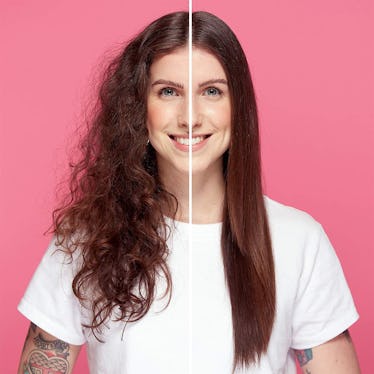 These Genius Straightening Brushes Will Change The Game For Anyone Trying To Tame Their Unruly Hair
For years, folks who have wanted straighter hair have relied on flat irons to get the job done — but if you have curly hair, you know this is easier said than done. Curls need to be stretched as you straighten them, meaning that the curly-haired among us tend to need two hands to straighten — one to pull the hair taught and the other to straighten hair with the iron. It's doable, sure, but uncomfortable — and not to mention time-consuming. But there's another, more effective way. Enter: the best straightening brushes for curly hair.
Straightening brushes are a blessing for folks with curly hair because they achieve two things at once: They stretch the hair and straighten it all at once. That mean's there's no tugging or pulling, and it also takes a lot less time. These brushes do conduct heat, though, so it's important to protect your hair the same way you would with any other hot tool. Curly-haired types are especially susceptible to heat damage, since their hair tends to be drier, so make sure you're applying a heat protectant beforehand to prevent further damage. To avoid further dryness and increase shine, always finish with a smoothing or nourishing oil. Your hair will thank you.
Ahead, find three of the best straightening brushes on the market. All of the options below heat up to 450 degrees Fahrenheit and come with a carrying pouch.