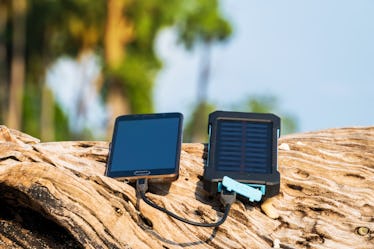 Solar Phone Chargers Exist, & These Are The Best Ones You Can Get On Amazon
diy13/Shutterstock
If you want to power up your phone while camping or traveling, the best solar phone chargers are game changers, as they eliminate the need for an external power source. You just connect your smartphone to charge it — even when there's no power outlet in sight. They're great for long outdoor treks and especially useful during emergencies, too.
Solar-powered phone chargers come in a variety of styles and vary in features, but there are a few important things to consider. The first is the power output and charge. Most smartphones require at least a 7-watt solar panel to reach a full charge. Also, make sure the USB ports on the solar charger have a minimum of 2.1 amp power (it's the standard for charging high-powered smart devices).
Connection and portability are other important factors. Some solar phone chargers only feature one or two USB ports for charging, while others provide multiple ports for all kinds of devices. Opt for the one that'll best suit your needs. And regardless of which style you choose, it should be easy to carry and pack away.
Below, find a list of the best solar phone chargers available to meet any outdoor charging need.